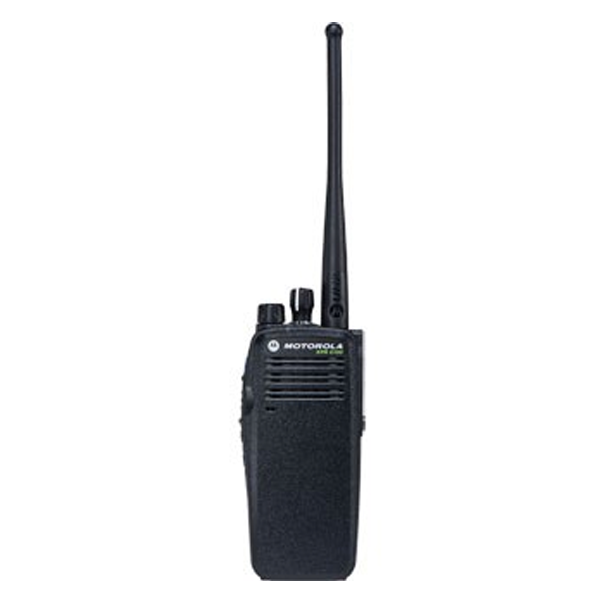 Supporting Documents
This product may no longer be manufactured or available for sale.
The XPR 6000 is a digital workhorse with proven performance for demanding users. Featuring superior audio with optional Bluetooth, integrated GPS, text messaging and expert applications customized to your business, the XPR 6000 is a radio you can trust to keep your work teams connected.
For a more fully featured version of this radio, please see the XPR 7000 Series Portable Two-way Radio.
XPR 6000 Series Radios include:
XPR 6100 Non-Display Radio
XPR 6350 Non-Display Radio
XPR 6380 Non-Display Radio
XPR 6550 Display Radio
XPR 6580 Display Radio

The XPR 6550 has replaced the discontinued XPR 6500.
The XPR 6350 has replaced the discontinued XPR 6300.
Features
Due to the FCC Narrowbanding mandate in the United States, product specifications and brochures for Motorola Solutions two-way radio products may indicate 25 kHz/12.5 kHz analog/digital operation which may not be the standard mode of operation at the time

Basic or Enhanced Privacy

Built-in scrambling for increased security

Bright Sensors

Tricolor LED indicator shows feedback of calling, scanning or monitoring features

Capacity Plus

A scalable, single-site trunking solution that enables over a thousand radio users to share business-critical voice and data communication on the same system

Certified Intrinsically Safe

Certified as intrinsically safe by FM and CSA Approvals when purchased and equipped with a FM battery for use in hazardous environments

Connect Plus

With extended coverage and expanded voice and data capability, this multi-site digital trunking solution enables you to accommodate the high volume, wide area communication required to keep your mobile work teams connected.

Customized Applications

Features the industry's largest third party application developer program for customized applications such as work order tickets, system management, email gateways, man-down, location tracking, telephony, dispatch and much more

Digital Telephone Interconnect

Communicate between radios and landline or mobile phones

Emergency Button

Alerts supervisor or dispatcher during an emergency situation

Emergency Signaling

Sends a help signal to a predefined person or group

Integrated GPS

Track vehicles and assets without additional equipment to purchase, install or maintain

IP Site Connect

Extend communication between multiple locations, create continuous wide area coverage or enhance single site coverage

Rugged Design

Tightly sealed against wind and dust, and submersible in up to one meter of water for 30 minutes

Text Messaging

Use text messaging when discretion is required or routine communication needs to be delivered without interrupting workers or guests

Transmit Interrupt

Enables intervention during conversations to deliver critical communication exactly when and where it's needed
Specifications
Performance Characteristics
Estimated battery life1
13 hours in digital mode. 9 hours in analog mode.
Frequency band
VHF, UHF
Frequency range
VHF: 136-174 MHz. UHF: 403-470 MHz
Repeater capable
Yes
Standard battery chemistry type
Lithium Ion
Physical Characteristics
Available option board
True
Dimensions H x W x D (with standard battery)
5.12 x 2.50 x 1.39 in. (131.5 x 63.5 x 35.2 mm) H x W x D
Display
No display
Emergency button
Programmable
Keypad
None
Weight (with standard battery)
11.63 oz (330 g) (with LiIon non-FM battery), 11.8 oz (340 g) (with LiIon FM battery), 14.09 oz (400 g) (with NiMH battery)
Radio Features
Channel spacing
12.5
CPS (Customer Programming Software)
Yes
GPS operation
Yes
Integrated voice and data
Yes
Number of channels
32
Programmable buttons
Yes
Scan types
Dual priority
Signaling
Enhanced Call Management. Encode/Decode: private call, call alert. Encode only: emergency, push-to-talk ID. Decode only: radio check, remote monitor, radio disable, all call
Talkaround
Yes
Text messaging capable
Yes
Technology
Digital technology
Yes
System type
Conventional
User Environment
Factory Mutual
Yes
Intrinsic safety standard
XPR Portable Series radios have been certified by FM Approvals in accordance with Canada and U.S. Codes as intrinsically safe for use in Class I, II, III, Division 1, Groups C, D, E, F, G when properly equipped with a Motorola FM approved battery option.
Intrinsically safe
Yes
IP Standards
IP57
Mil spec
810 E
Noise reduction software
Yes
Submersible
Yes
Warranty
Standard package
Non-Display Portable Radio, Standard Whip with GPS Antenna, IMPRES™ Li-ion 1500 mAh Submersible Battery, IMPRES™ Single Unit Charger, 2.5" Belt Clip, User Guide and Two-year Standard Warranty plus One-year Repair Service Advantage (US only)/Extended Warra
Standard warranty
2 years