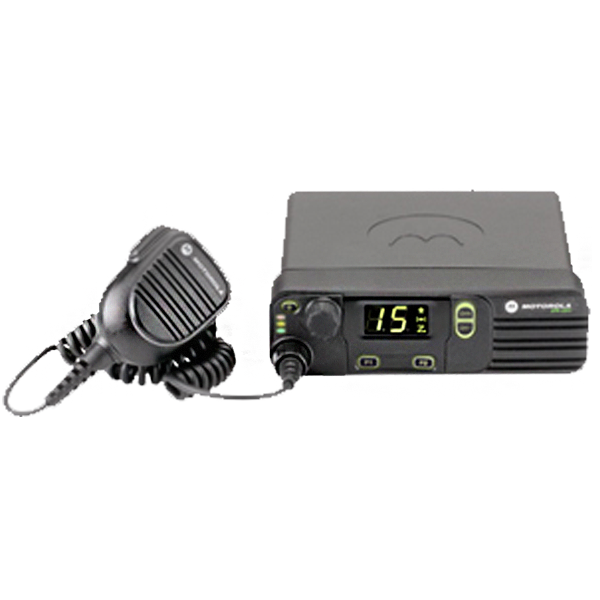 Supporting Documents
This product may no longer be manufactured or available for sale.
The MOTOTRBO XPR 4000 Mobile Two-way Radio is a digital workhorse for users who need a proven solution. The XPR 4000 Series features superb audio, integrated GPS, text messaging and expert applications customized to your business. Keep crews in touch with these proven digital performers.

For a more fully-featured version of the XPR 4000 Series, please see the XPR 5000 Series Mobile Two-way Radio.
XPR 4000 Series radios include:
XPR 4350 Numeric Display Radio
XPR 4380 Numeric Display Radio
XPR 4550 Alpha-numeric Display
XPR 4580 Alpha-numeric Display
Features
Due to the FCC Narrowbanding mandate in the United States, product specifications and brochures for Motorola Solutions two-way radio products may indicate 25 kHz/12.5 kHz analog/digital operation which may not be the standard mode of operation at the time of shipment after Jan. 1st 2013.

Basic or Enhanced Privacy

Built-in scrambling for increased security.

Best-in-class Audio

Loud front-facing speaker and Intelligent Audio feature automatically adjusts the radio volume according to the environment's noise level.

Bright Display

Flexible, menu-driven interface with user-friendly icons or two lines of text for ease of reading text messages and navigating through menus

Capacity Plus

Opt for this single site, digital entry-level trunking system that maximizes the capacity of MOTOTRBO by connecting several repeaters together. You can use it for a high volume of voice and data communication and link over a thousand users at a single site without adding new frequencies. The Digital Voting option offers an enhanced level of coverage for wide areas and difficult geographies.

Compact, Ergonomic Design

Large, easy-to-use navigation buttons with a compact and ergonomically friendly microphone.

Connect Plus

Unify your entire enterprise with this scalable, multi-site digital trunking system that coordinates resources using a dedicated control channel. Calls can be queued during busy times until an open channel is available, important users can be assigned priority status and a wireline console can be used for centralized dispatch.

Customized Applications

Features the industry's largest third party application developer program for customized applications such as work order tickets, system management, email gateways, man-down, location tracking, telephony, dispatch and much more.

Digital Telephone Interconnect

Communicate between radios and landline or mobile phones.

Emergency Signaling

Sends a help signal to a predefined person or group

Flexible Configurations and Easy Use

Available in UHF and VHF frequency bands with 1000 channel capacity, large, easy to access volume knob and four programmable buttons with option to use one as an emergency button.

Integrated GPS

Track vehicles and assets without additional equipment to purchase, install or maintain.

IP Site Connect

Use your IP network to extend the voice and data capabilities of MOTOTRBO by linking repeaters together. You can create a continuous network that covers employees at 15 geographically-dispersed locations. You can also link up to 15 sites to create wide area coverage or enhance coverage at a single site that has physical barriers.

Linked Capacity Plus

Expand the capacity and extend the coverage of MOTOTRBO with this multi-site, digital, entry-level trunking system. It leverages the high capacity of Capacity Plus with the wide area coverage capabilities of IP Site Connect to keep employees at many locations affordably connected.

SCADA Solutions

Supervisory Control and Data Acquisition (SCADA) solutions are designed to monitor and control equipment located at remote, unmanned sites. With MOTOTRBO, you can now combine SCADA data and voice communication over the same reliable network.

Text Messaging

Use text messaging when discretion is required or routine communication needs to be delivered without interrupting workers or guests.

Transmit Interrupt

Enables intervention during conversations to deliver critical communication exactly when and where it's needed.

Versatile, Loud Audio

Powerful, front-projecting speaker and support of both USB and IMPRES audio accessories.
Specifications
Performance Characteristics
Frequency band
VHF, UHF
Frequency range
VHF: 136-174 MHz. UHF: 403–470 MHz (XPR 4350, XPR 4550)
Power levels
1-25W, 25-45W (VHF);
1-25W, 25-40W (UHF B1) 1-40W (UHF B2) (XPR 4550, XPR 4350)
Physical Characteristics
Available option board
Yes
Configurations
Dash Mount, Remote Mount Capable
Dimensions H x W x D
2.01 x 6.89 x 8.11 in. (51 x 175 x 206 mm)
Display
Numeric
Emergency button
Programmable
Weight
4.0 lbs. (1.8kg)
Radio Features
Advanced Software Features
Remote monitor
Ancillary products
Emergency switch, Visor microphone
Channel spacing
12.5, 25
Channels
32
Emergency signaling
Yes
GPS capable
Yes
Integrated voice and data
Yes
Programmable buttons
Yes
Scan
Dual priority
Text messaging capable
Yes
Technology
Digital technology
Yes
System type
Conventional
User Environment
Mil spec
810 E, 810 F
Warranty
Standard package
Radio with Numeric Display Control Head, Mounting Trunnion, 10-Foot Power Cable, Compact Microphone, Replacement Button Kit, User Guide and Two-year Standard Warranty plus One-year Repair Service Advantage (US only)/Extended Warranty (Canada only)
Standard warranty
2 years